The P175 FM Broadcast Analyzer is a stand-alone low-cost solution for FM broadcast analysis. It provides complete FM modulation and basic AF spectrum measurements in FM radio band through the antenna input. Built-in LCD display and control interface allows to measure and collect data in terrain without need of any PC computer.
This kind of analyzer is an essential equipment for all FM radio stations to ensure compliance with basic technical broadcast standards and to accomplish the highest audio quality possible.
P175 FM Broadcast Analyzer


P175 FM Analyzer in Box

| Direct buy |




P175 FM Analyzer Module - Fixed LCD

| Direct buy |




P175 FM Analyzer Module - Flexible LCD

| Direct buy |


Actual news:

New firmware & FM Scope version released - 1.4 (14.01.2013)
New firmware & software version available - 1.3c rev. 3. (23.7.2012)
FM Guard monitoring utility added (3.3.2012)
New revision of the device introduced - P175 (16.6.2011)
Real-time Windows RDS decoder available for the device: http://rdsspy.com (21.11.2010)
P175 in action: http://pira.cz/monitor/?lang=eng
Main highlights:

Designed for small FM stations
Stand-alone design, completely DSP based from IF to outputs
Compliant with CEPT/ERC REC 54-01 E
Dual-conversion receiver
Built-in LCD display, USB and RS-232 interface
Alarm outputs
Firmware updates for free
Easy to use

Measurements:

Overall frequency deviation incl. histogram
Modulation power
Baseband FFT
Pilot and RDS deviation
Pilot-to-RDS phase difference
FM carrier frequency difference
Stereo balance meter
RDS/RBDS decoder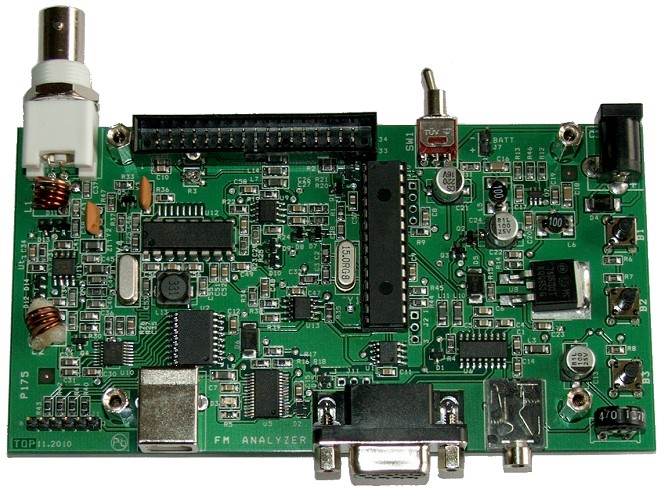 The P175 mainboard.
Quick technical data:
| | |
| --- | --- |
| Power supply | 8-12 V DC or NiMH accu or USB |
| CPU | 120 MHz RISC DSP |
| Antenna connector | BNC, 50 Ohms |
| Frequency range | 87.5-108.0 MHz |
| RF sensitivity (26 dB S/N) | 4 uV |
| RF sensitivity (full measurements) | 70 uV |
| Board dimensions | 133 x 70 mm |
| Certification | CE (EN 55013) |
Find complete technical data in the pdf manual.
If you adjust the modulation level using only your ears, the real frequency deviation can easily reach more than 30 % over the limit.
Overmodulation increases the FM band spectrum pollution and audio distortion. An inspection may fine for it by a considerable amount of money.
If you adjust the pilot tone level only using a rule of thumb, you may cause unavailing troubles to your listeners.
The P175 is one of the few FM analysis equipments on the world that allows direct measurement of pilot-to-RDS phase difference.
Not all commercially available audio limiters and other parts of the broadcast chain ensure no overmodulation and overshooting. You may believe and trust but the FM analyzer will show it exactly.