Magic RDS 4 - Get License Key

Get and apply the License key in a few quick steps
Fill both the fields above, the User ID and the Installation ID.
If you don't have the User ID yet, please buy the license here.
Click on Get the License key button and copy the License key.
In the Magic RDS main menu, select Help - License Manager.
Paste the key into the License key field. Finally click on the Apply button.
Frequently Asked Questions
Where to find the Installation ID?
In the Magic RDS main menu, select Help - License Manager: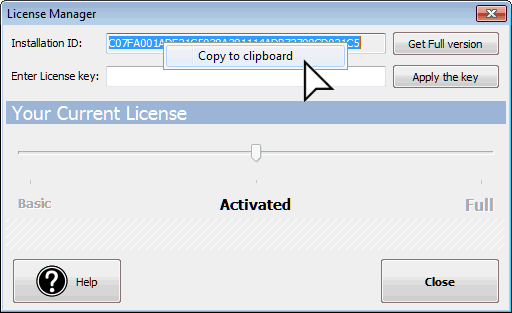 Right-click on the Installation ID string and select Copy to clipboard. Then paste the string into the field on this page.
I'm running multiple instances of the Magic RDS 4 on my PC.
Is this still covered by a single license?
Yes, the license is tied to the system, regardless of how many instances of the application you're running.
For the Standard license, you're not allowed to operate the application on different PC machines (physical or virtual) at the same time. The Full license can be operated on up to 5 PC machines.
I moved all my broadcast software to a new PC. Do I need to buy a new license?
No, you don't need to buy another. The license is life-time. Using your existing User ID, which you received by email upon purchase, you can simply generate new License key online for your new installation.