The Magic RDS is a GUI based control software for PIRA32, P132, P232 and P332 RDS encoders.
OS supported: Windows 98, ME, NT, 2000, XP, Vista, 7, 8, 10.
With this application you can:
perform initial configuration of the RDS encoder, incl. connection parameters and default RDS content
process and send text information from several sources, like broadcast automation or internet
schedule RDS content
For maximum clarity, the software can run in demo mode without the RDS encoder connected.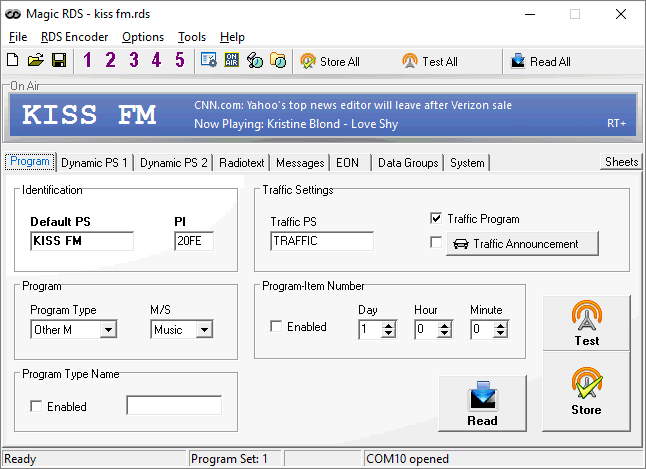 Features
RDS services supported: PI, PS, PTY, PTYN, TP, AF, TA, DI, M/S, PIN, ECC, LIC, RT, UDG, CT, EON, RT+
Easy RDS settings wizard, including automatic PI calculation
Complete solution for your radiostation: RDS scheduling, external text sources, advanced "now playing" features, presets, task scheduler, configuration macros, settings lock, encoder backup/clone
Supports serial and TCP connection
Up to 16 dynamic external text sources
Powerful text processing tools
HTTP, FTP, HTTPS, RSS, regular expression and UTF-8 support
External text source can control any RDS service (for example TA and PTY)
As a bonus, the application can send song artist and title to your web site
Still active software - user requests are usually implemented in a short time
It's a freeware!
Installation
Download and run the MagicRDS_Setup.exe.
Follow the instructions from the Help, Quick Installation Guide and Technical manual.
Update from older version
Close your current version.
Download and run the MagicRDS_Setup.exe.
Select the folder where the previous version is placed. Your settings will remain.
The default language of the control software is English. The Magic RDS includes additional languages, which you can select from menu. For the TinyRDS you may download the language pack here.
Haven't found your language? Download the English language pack and translate it to your language. Send it back to us and we will add it shortly. Thanks for your help!
The RDS Spy allows analyzing the RDS data and adjusting all RDS services before final installation of the encoder. In most cases, you don't need any special hardware, just a standard PC.

There's a direct support included for the P132 family RDS encoders, i.e. you can connect directly the RDS Spy to any of the RDS encoder's communication port and see all outgoing data in real time, incl. RT+ tagging, binary content etc. This unique feature has no equivalent in other RDS encoders.
The 57 kHz subcarrier from the RDS output can be also processed by a sound card that supports 192 kHz sampling rate for recording. For other sound cards a simple half-wave rectifier can provide similar functionality and gives a way how to analyze the data from any RDS encoder.
The RDS Spy decoder has own site here.