P275 FM Analyzer Module
The P275 FM Broadcast Analyzer is a low-cost solution for FM broadcast analysis. It provides FM modulation and MPX measurements in standard FM radio band 76.0-108.0 MHz through the antenna input. Optional LCD display and control interface allows to measure and collect data in terrain without need of a PC computer. This kind of analyzer is an essential equipment for all FM radio stations to ensure compliance with basic technical broadcast standards and to accomplish the highest audio quality possible.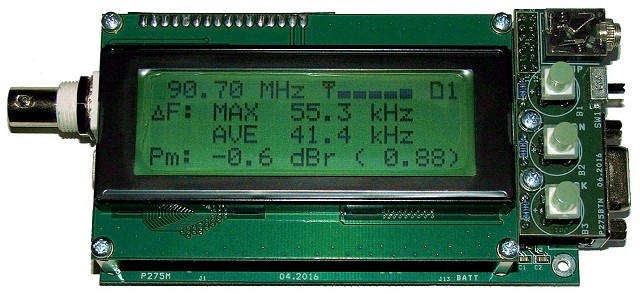 This compact FM analyzer board is ideal for embedding into an enclosure or customer's product to add FM modulation measurement and RDS decoding functions. In default configuration (Fixed LCD - see the picture above) comes fully assembled and tested and can work stand-alone. Many assembly options are available for I/O connectors, LCD, buttons, spacers etc.
Main highlights
Completely DSP based from IF to outputs
Frequency range 76 to 108 MHz (64 to 108 MHz with reduced sensitivity)
Accepts also baseband MPX/RDS
Compliant with CEPT/ERC REC 54-01 E and ITU-R SM.1268
Built-in LCD interface, USB and RS-232 interface
Firmware updates are free
Measurements, indications and outputs
Overall frequency deviation incl. histogram
Modulation power (MPX power)
Baseband spectrum, RF carrier spectrum
Pilot deviation, RDS deviation
Pilot-to-RDS phase difference
FM carrier frequency offset
Reception quality and signal strength
Stereo balance meter
MPX peak to peak voltage
Headphones audio output
Alarm logic or general purpose outputs
RDS/RBDS decoder
Download
Quick reference data
| | |
| --- | --- |
| Power supply external | 5 V DC via USB Micro |
| Power supply internal | 5 V DC, 2.3-4.3 V DC |
| CPU | 70 MIPS DSP |
| Signal input | BNC, 50 Ohms |
| RF sensitivity (26 dB S/N) | 4 uV |
| RF sensitivity (full measurements) | 70 uV |
| Main board dimensions | 115 x 65 mm |
Assembly options
In default configuration (Fixed LCD) the module is equipped as follows: BNC input connector, LCD display on 15mm spacers, RS-232 connector, alarm outputs, additional board with stereo jack 3.5mm, battery off/on switch and buttons (HIGHLY PB6149L green). There's no minimum quantity applied for orders of the default configuration.
Attention! We do not accept later orders for an empty case for existing module! Consider buying complete encapsulated P275 FM Analyzer for this reason.
We no longer provide a complete list of all assembly options since there are many possibilities. We can place any part or mechanical component to the main board, we only need the part name (or its Farnell number) and the part must fit into the holes on the board. The board is described in the Technical manual. Please consider the board configuration or describe your application so we can help you to propose connector placement and other elements. Keep on mind that minimum order limit may apply for your configuration.