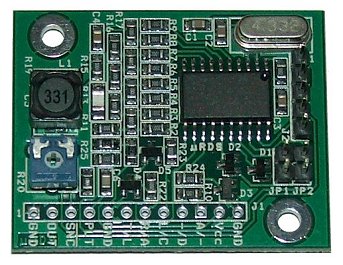 The MicroRDS Encoder is a professional full-featured FM broadcast RDS encoder module that supports all basic RDS services at unmatched acquisition costs. It's up to you if you use this RDS encoder with one transistor FM bug or a 10 kW transmitter. It provides your station all common RDS services: Program service name, dynamic PS, Radiotext, Program Type identification, Traffic Program, Traffic Announcement and Music/Speech flags, Alternative Frequencies list and some more. This unit is ideal for embedding into existing FM transmitter as well as for development and hobby purposes.
The design is based on the MRDS1322 chip. Direct digital synthesis of the RDS signal, equipped with pilot input for optional synchronization.
Simple RDS encoder with only basic set of features
Very small dimensions and power consumption
Easy to use
Operates stand-alone
Unlimited reprogramming
Selectable control interface (RS-232 or I2C bus) supports various connection methods for configuration
EEPROM memory for data storage during power-off
Broadcast quality output signal
Continuous RDS transmission during all operations
Includes text features like dynamic PS, parsing and scrolling
Supports both stereo and mono transmission
Specifications & documentation download
RDS services directly supported:
PS (Program Service), PI (Program Identification), PTY (Program Type), TP (Traffic Program), TA (Traffic Announcement), DI (Decoder Identification), M/S (Music/speech), AF (Alternative Frequencies), RT (Radiotext), raw User Defined Groups.
Documentation:
Technical specifications:
| | |
| --- | --- |
| Board size: | 44 x 35 mm |
| Operating voltage: | 1.8 to 5.5 V |
| Supply current: | 8.0 mA typical |
| Output RDS level: | adjustable 0 to 1.2 V pp @ 5.0 V |
| Pilot sync. input: | Yes |
| TA input: | Yes |
| Communication modes: | RS-232 19200 Bd, RS-232 19200 Bd inverted, RS-232 2400 Bd, I2C 400 kHz max. |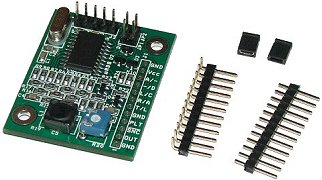 Package contents:
MicroRDS module
Jumper 2 pcs
12-pin header
12-pin header 90 deg.
Important notes:
Basic electronics skills are required for proper installation of this device! No cables, boxes or adapters are supplied with this device.
On request the device can be supplied with the header connector soldered (header type and top/bottom side must be specified). If you prefer complete plug-and-go solution rather, look at the PIRA32.
Download: TinyRDS_Setup.exe (730 kB) - supports all Windows version from 95 to 10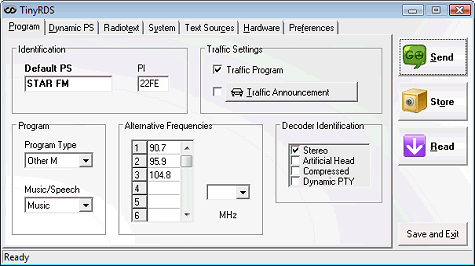 After install and first opening select appropriate connection parameters on Hardware card. The software can send actual song artist and title information if your broadcast automation system provides on-air text file.

In this configuration the RDS encoder can be controlled by the TinyRDS Windows application. The basic connection is extremely simple since the MicroRDS incorporates all hardware necessary. You only require a 5V power supply and standard DSUB connector. The RDS signal output that can be fed directly to RDS, MPX or SCA modulation input of your FM exciter.
Download the MicroRDS User Guide for more details and other methods of connection.
| | |
| --- | --- |
| Dynamic/scrolling PS demonstration: | Pilot sync. demonstration: |